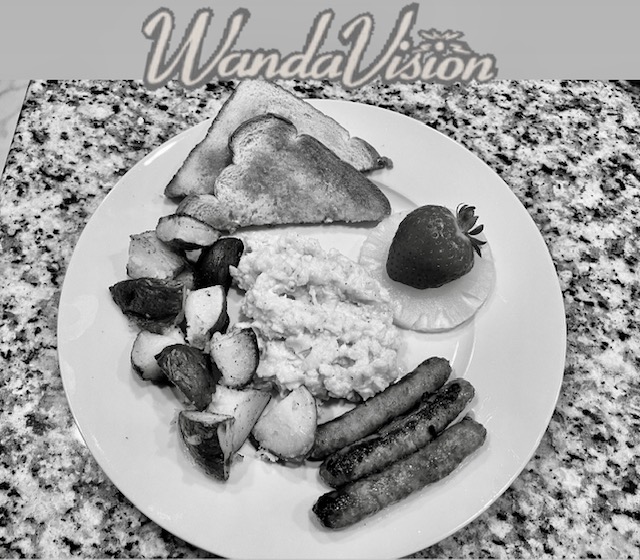 If your family is anything like mine, then they must be huge Marvel fans! We watch Marvel movies all the time and have been loving the new Marvel shows on Disney+, especially WandaVision!
We have watched each episode many times and last week we decided to replace our family movie night with a WandaVision viewing party. I love a good themed night so I ran with this idea!
I usually try to find a dinner, viewing snack, and craft for our family movie nights and this was no exception. The only problem is that there isn't much to choose from for a menu. Since Vision doesn't eat food, there are very few times food is showcased in the show. However, in episode 1, Wanda ends up making the only thing she knows how to cook, breakfast for dinner!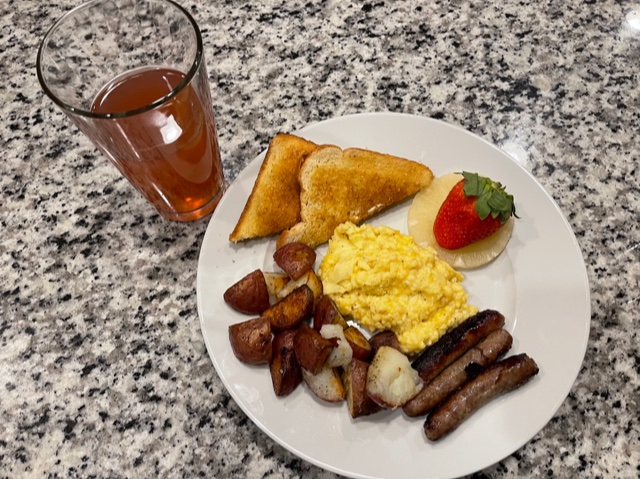 I decided to recreate exactly what she served for the main course. I made buttered toast, scrambled eggs, sausage links, and crispy roasted potatoes. I finished it off with an oh-so 1950's garnish of a pineapple ring topped with a strawberry and my WandaVision main course was complete. It was so quick and easy, it was almost like magic!
"Devil's In The Details Punch"
Wanda serves red wine with her meal, but we decided to make what we call "Devil's In The Details Punch" for our red beverage. It tastes just like a sweet tart!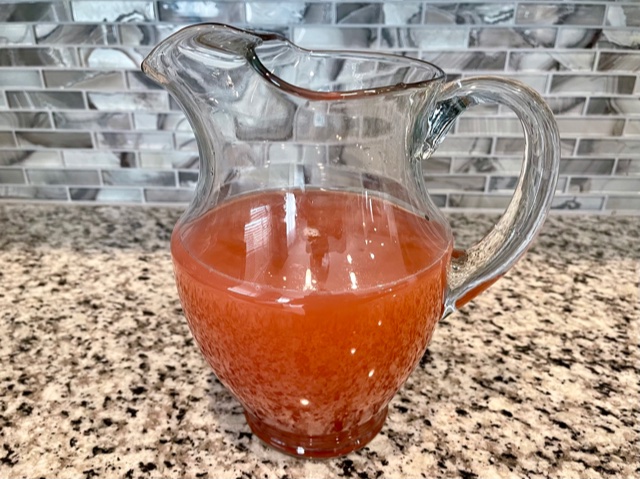 Ingredients:
2 packets of Strawberry Crystal Light mix
4 cups of lemonade
4 cups of water
Liquor of your choice (dark rum or vodka are recommended)
Instructions:
1. Combine the Crystal Light mix, lemonade, and water in a large pitcher. 2. Chill until it's time to serve.
*The devil is in the details! Add punch and 1 ounce of dark rum or vodka to a glass and serve over ice for the grownups.
"For The Children Popcorn"
For our viewing snack we made "For The Children Popcorn" in red, green, and yellow for our favorite super heroes' colors. This is a classic Jello candied popcorn that is so fun to make!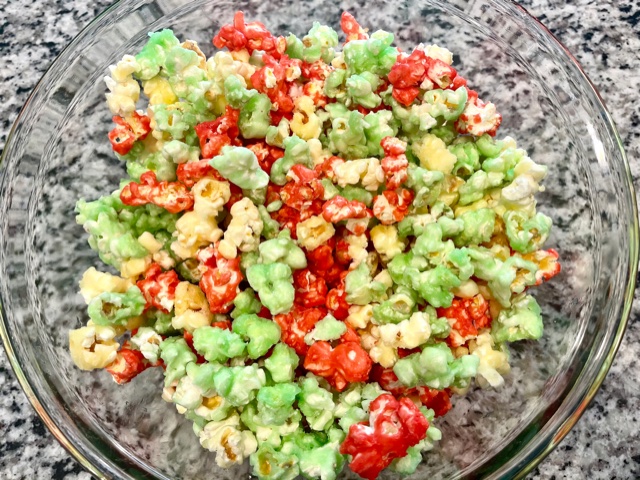 Ingredients:
2 bags of popped microwave popcorn (natural flavor) divided into three batches
3 tablespoons dry Jello powder of each flavor (We used cherry, pineapple, and lime)
9 tablespoons butter (use 3 tablespoons per batch)
3 cups sugar (use 1 cup per batch)
3 tablespoons light corn syrup (use 1 tablespoon per batch)
1½ cup water (use ½ cup per batch)
Instructions:
1. Mix 3 tablespoons Jello powder, 3 tablespoons butter, 1 cup sugar, 1 tablespoon light corn syrup, and ½ cup water in a medium saucepan. Bring to a boil.
2. Spread 1/3 of the popcorn on a wax paper lined cookie sheet. Drizzle syrup mixture over popcorn and use a large spoon to toss it around to coat. Work quickly because it becomes hard to work with as it cools. The mixture will be very sticky at this point.
3. Bake the coated popcorn on the cookie sheet at 200 degrees for 10 minutes. Remove and let cool.
4. Once cool, break the pieces apart. They should now be dry and crispy. Enjoy right away or store in an airtight container for later.
5. Repeat steps with remaining flavors.
We enjoyed our dinner and settled in on the couch to snack on our popcorn and watch some WandaVision! I love that the Marvel shows and movies are something we can all agree on. So often it's tricky to find something to watch that everyone likes but Disney+ has made family nights so much easier!
Hydra Soak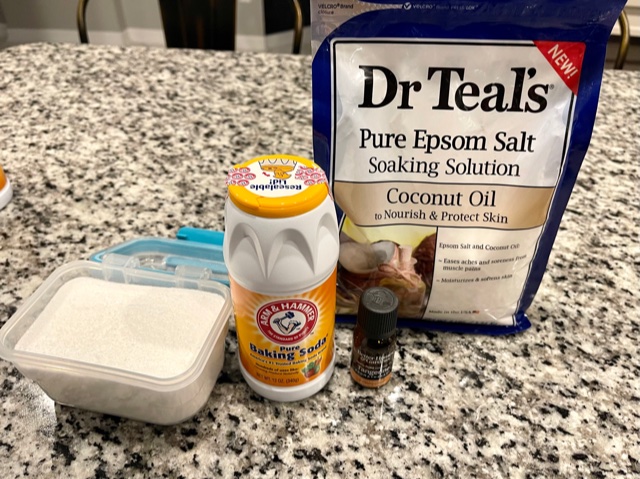 After we watched a few episodes and cleaned up, we decided to make our activity. We usually do our themed crafts before dinner but this one is so quick and easy, we only needed a few minutes. I surprised the kids by letting them create their very own Hydra Soak Bath Fizz for their baths!
Ingredients:
1 cup baking soda
½ cup Epsom salt
Essential oil of your choosing
Container with tight fitting lid
Instructions:
1. Combine baking soda and epsom salt in container.
2. Add as many drops of essential oil as you'd like. We did about 10 drops to give it a nice smell.
3. Add the lid and shake it up to combine.
4. Add a handful to warm bath water to make your bath feel and smell wonderful!
We had a great time with our WandaVision themed family night. If you haven't watch the show yet, we'd highly recommend checking it out and let us know if you try these recipes with you own family!