When people hear the name Florida, most automatically think of Disney World, Universal Studios, and other theme parks but being born and raised here, I know that there are so many more gems that the state has to offer.
Beautiful springs hidden away, gorgeous sandy beaches that you have never heard of, and one of the best hidden but largest landmarks, Bok Tower Gardens.
Being a native Floridian, you would expect in my 35 years of life here, that I have seen all of what this beautiful state holds but sadly I have not. One of the goals I made for myself last year was to get out and explore, take more adventures, see what the world I have been missing out on has to offer! So when the opportunity to take the Holiday Tour at Bok Tower Gardens with my family revealed itself, I jumped on it pretty quickly as it is one of the landmarks I have always wanted to visit.
Located in Lake Wales, Florida…not too far from Spook Hill – another gem that I would like to visit and talked about going while we were there, but we forgot, neither here nor there – lies this absolutely breathtaking site.
Resting on Iron Mountain, at 298 feet above sea level, one of the highest points in the state, is home to the 205 foot Bok Tower with a 60 bell singing Carillon.
It has 50 acres of sweeping gardens that includes nature trails and Hammock Hollow, along with the 20 – room Mediterranean style mansion named Pinewood Estates.
Bok Tower Gardens is open for your enjoyment 365 days a year, from 8 am to 6 pm (last entry is at 5). However, make sure to get there early as we spent a good five hours roaming and we still didn't get to see everything.
Before I get ahead of myself let me give a little back story on the magnificent man who brought this lovely place to fruition.
Edward William Bok, born in 1863 in the Netherlands, came to America when he was 6 years old. He was your typical starry eyed child who grew up in Brooklyn and ended up getting a job as an office boy with the Western Union Telegraph Company.
Going through night school to get his education, he quickly became pretty well known and made his way around the advertising scene, working with Henry Holt & Company, Charles Scribner's Sons, Brooklyn magazine to name a few. He even coined the term "living room" as a name for Victorian Parlors.
In 1886, Edward founded Bok Syndicate, which led to him being offered the editorship of Ladies' Home Journal (the magazine soared under his watch), but in 1919, after 30 years, he retired, moving to Florida.
In 1923, he reached out to a man named Frederick Olmsted Jr, son of Frederick Olmsted, designer of Central Park and who also worked with his father on the Biltmore Estate. Together they went on to design some of Washington D.C.'s most notorious landmarks, including the White House, Jefferson Memorial, and the National Zoo.
Talk about accomplishments! Let's begin our tour…
Entrance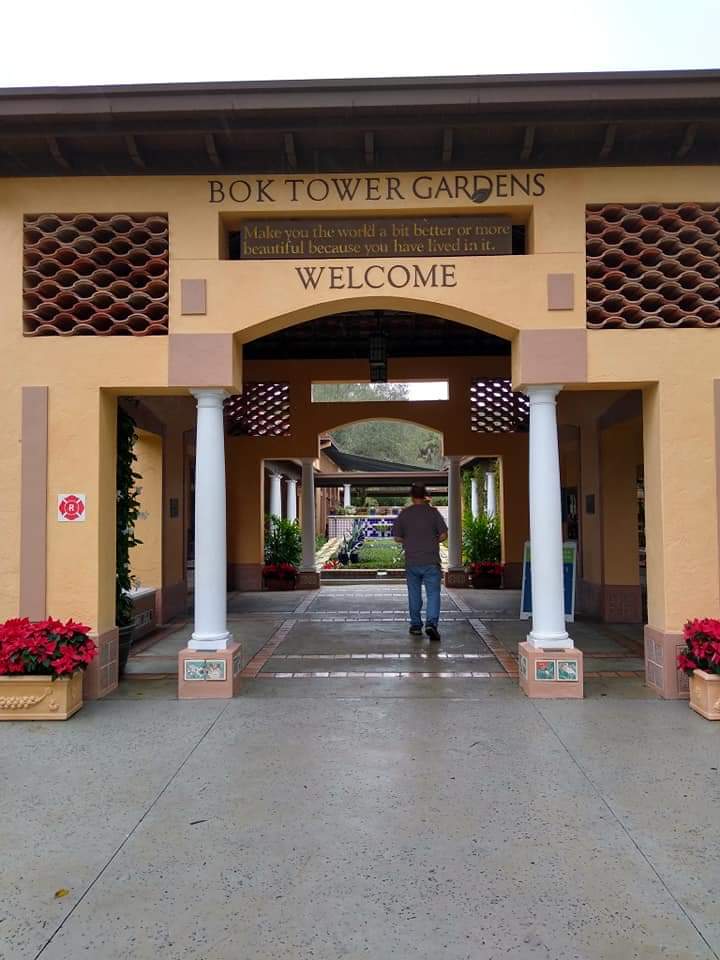 You begin your journey at the front gate, which includes the front fountain, the visitor center with all of the history of the grounds, a gift shop, and the Blue Palmetto Cafe.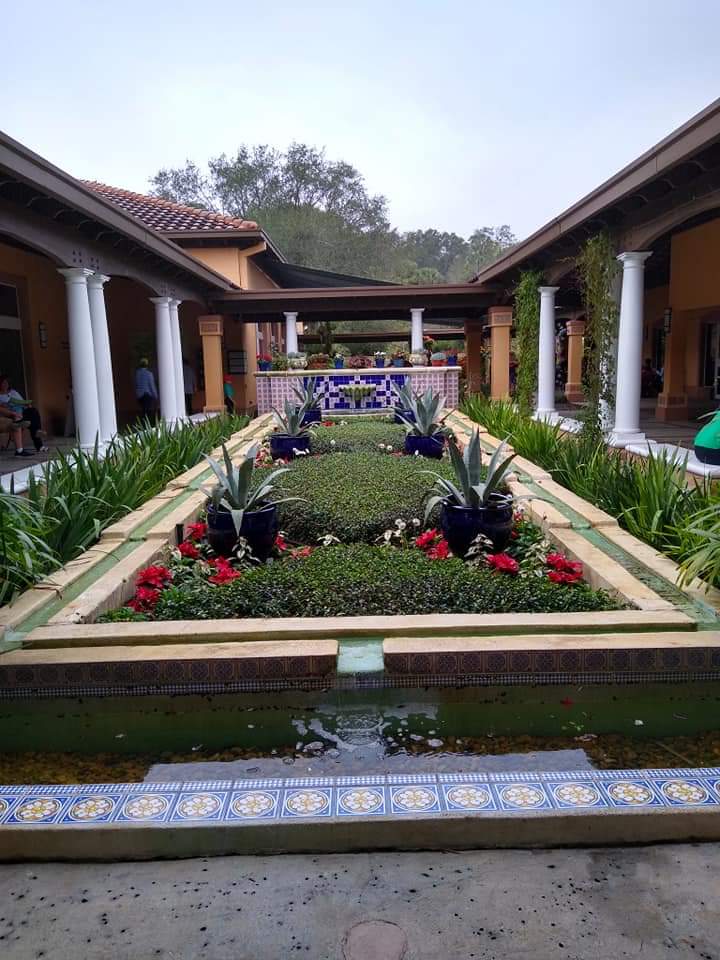 The River of Stone lies just outside but not going to lie, I wasn't fond walking over to this one. If you're just here to see the gardens, make your way through and enjoy!
If you're here to also take the Pinewood Estates History Tour or Holiday Tour, check in at the desk to get a tour time. You aren't required to get a tour time, but it does help to do so during busy times, as it can get quite crowded. Don't forget to take a look around the museum as well.
One thing that really enhanced my visit were all of the quotes by Mr. Bok throughout the gardens. He had a very positive and optimistic outlook on life, and I think we can all appreciate that.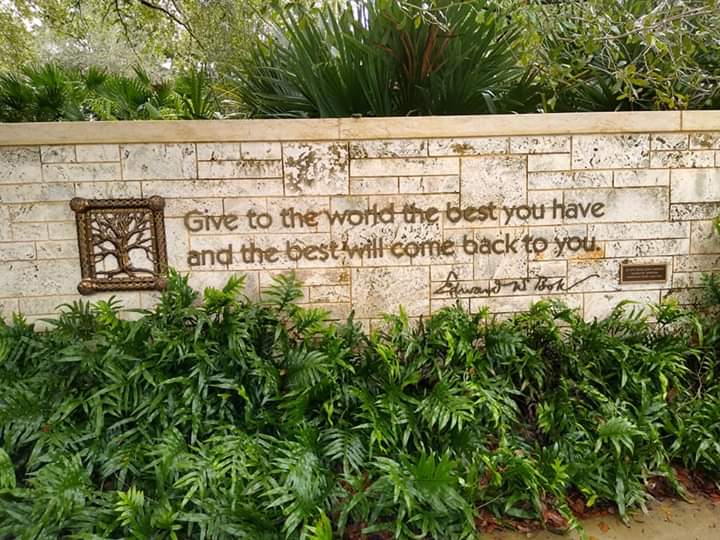 His legacy motto is one of the most inspiring I have read:
"Wherever your lives may be cast, make the world a bit better or more beautiful because you have lived in it."
Pinewood Estates Holiday Tour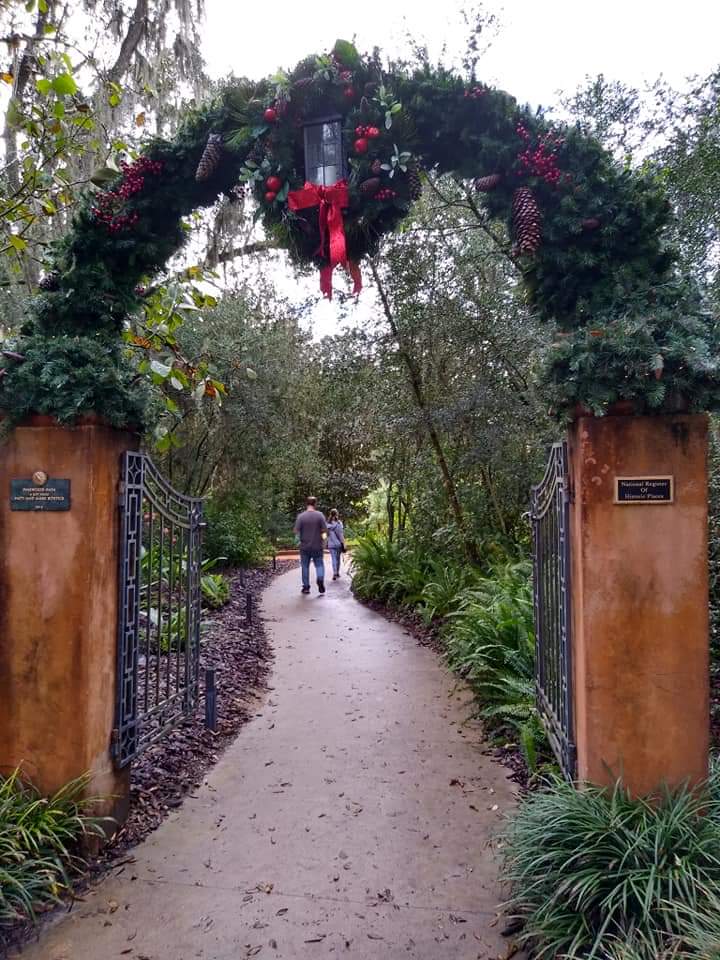 We began our visit with the Pinewood Estates Holiday Walkthrough as there was a tour just about to begin.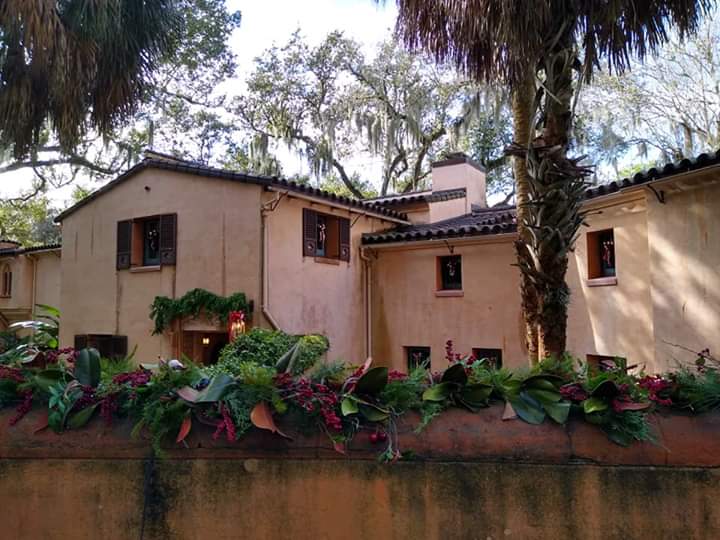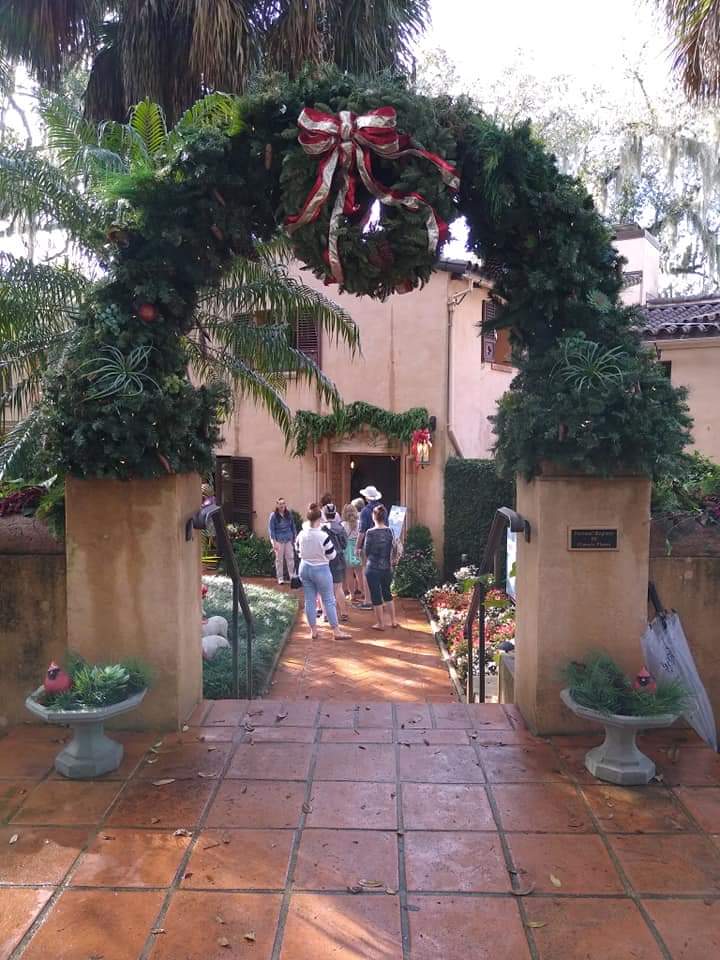 Pinewood Estate was constructed in 1932 as a winter getaway for Charles Austin Buck and his family, sitting on 7.5 acres, it is a 12,900 sq. Ft. 20-room Mediterranean style mansion, originally named "El Retiro" meaning "Retreat."
In 1929, Buck reached out to Olmsted's firm to have the landscape of his winter estate designed, the honor falling to William Lyman Phillips. He began working on the surrounding gardens and home placement.
In 1930, Charles Wait began the design of the home, fulfilling the horticulturist requests of Buck to provide a nature flow from the garden to the house, which included a Spanish frog fountain that leads into a grotto in front of the home.
I know that you're all excited to take a look inside this beautiful masterpiece, so let's go!
We visited during the Holiday Home Tour, the 25th year mind you. This tour is different than if you went during the rest of the year, as this is to celebrate the holidays at the Estate. I will definitely be going back for that history tour though.
You enter through the back door into the Entrance Hall. This is where you would have entered if you arrived by vehicle.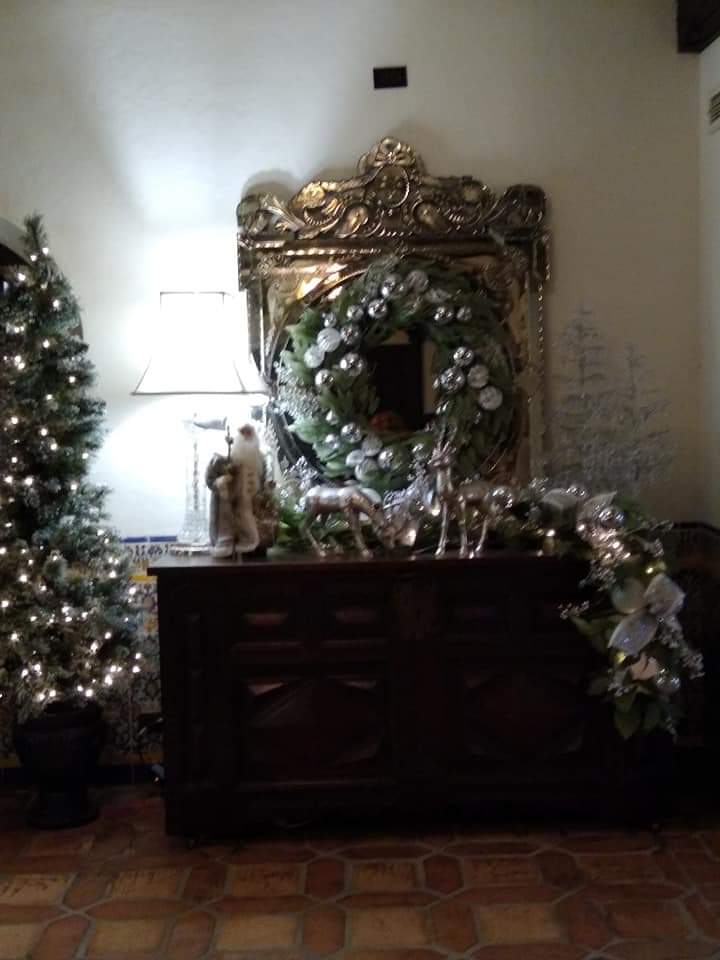 Every year, the decorations are different. This year, the theme is mostly Silver to commemorate the 25th anniversary of the Holiday Tour.
You make your way into the Pantry – not pictured as this was a small room and lots of people. – This is where the staff would finish preparations for service.
After that we step out into the Dining Room – only used for formal dinners. The decorations seen here are actually adorned with oranges. Pretty fitting for Florida if you ask me.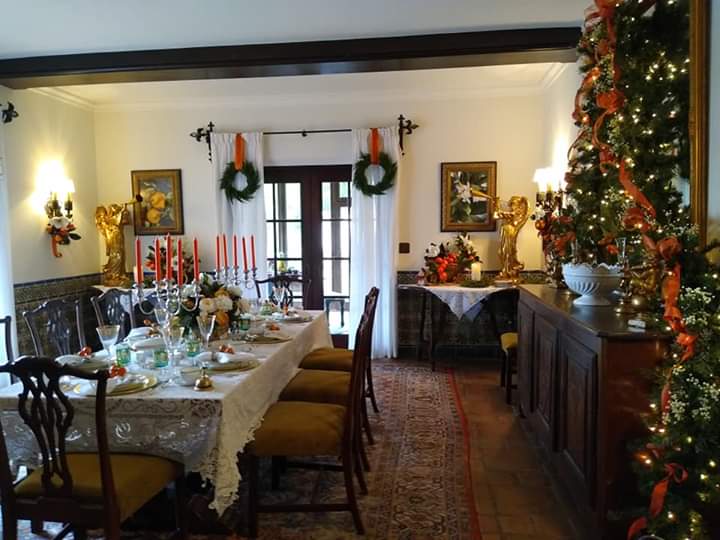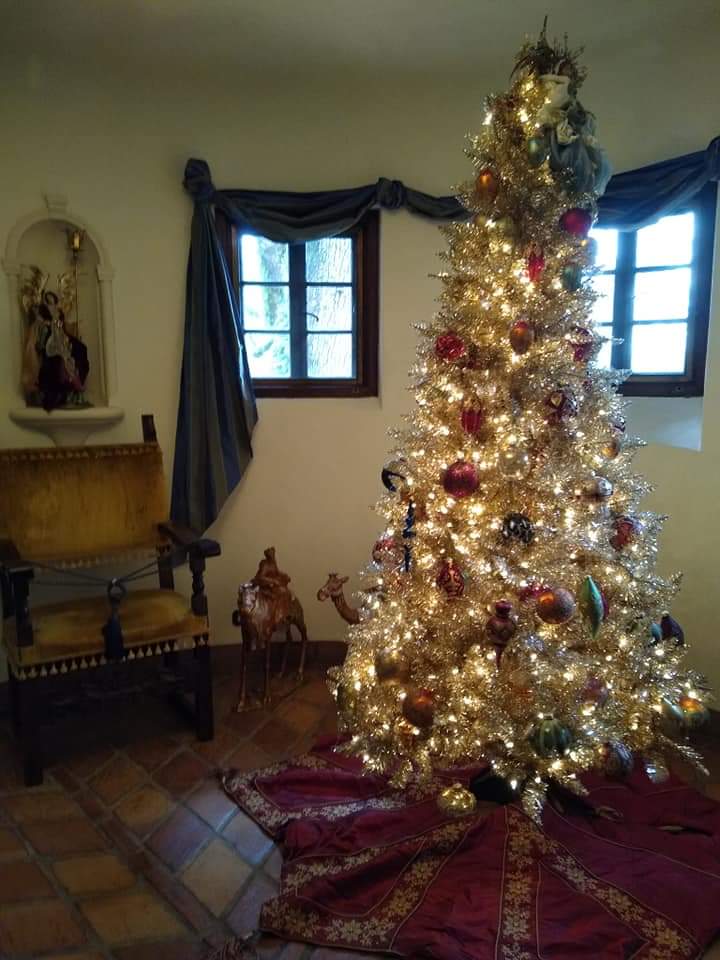 The Round Room (pictured above) is where guests would gather for conversation before dinner, maybe have a cocktail or light appetizer.
I wish I would have taken a photo of Mr. Buck's Office (not pictured), as it is the perfect little reading nook area, and I kind of want one in my house!
This home had doors on either side of the Loggia that could be opened and let that nice breeze blow through. "Loggia" is a term used to describe a place that opened to the outdoors on at least one side but was guarded. A beautiful peacock theme is seen in this room as it was Mr. Buck's favorite bird.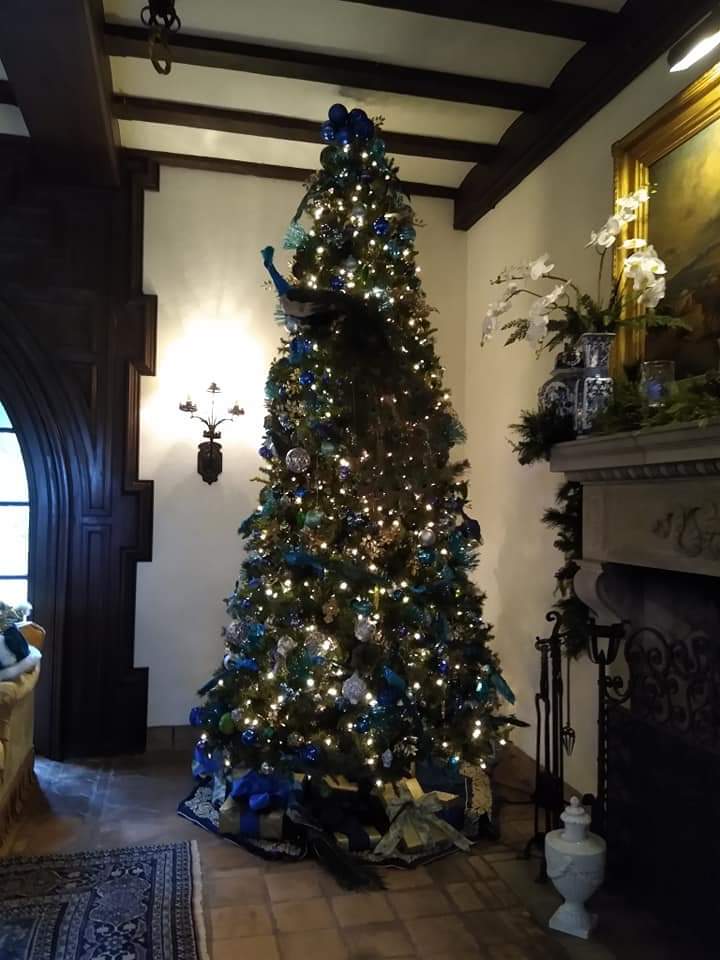 The Music room definitely had to be my favorite of the common home areas downstairs. I couldn't fit it all in one photo, but I'm sure you can see why I fell in love with it.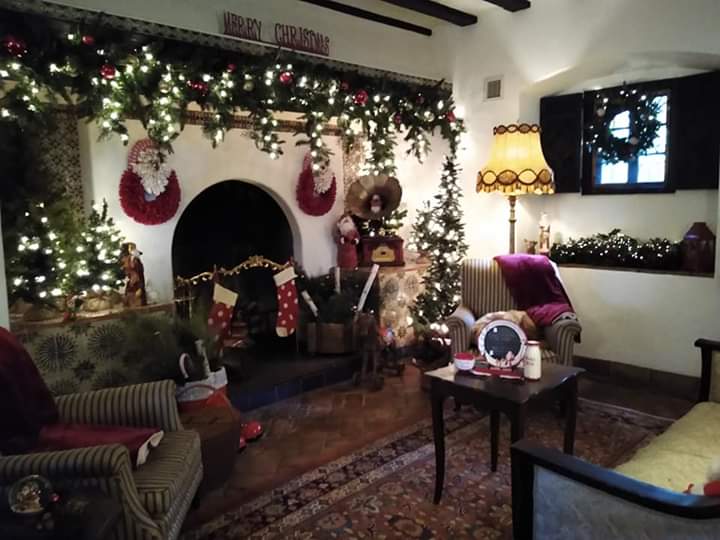 One of the tidbits that made me giggle, probably because I relate to it a little too much, is that there is a small spiral, sort of hidden staircase off to the side of the music room.
This is where, when Charles Buck would basically be done with the evening or need to slip away for some private time, he would climb this stairwell that led straight into his suite upstairs. Don't get me wrong, I love a good get together with fun times and great people, but sometimes, you just need a moment.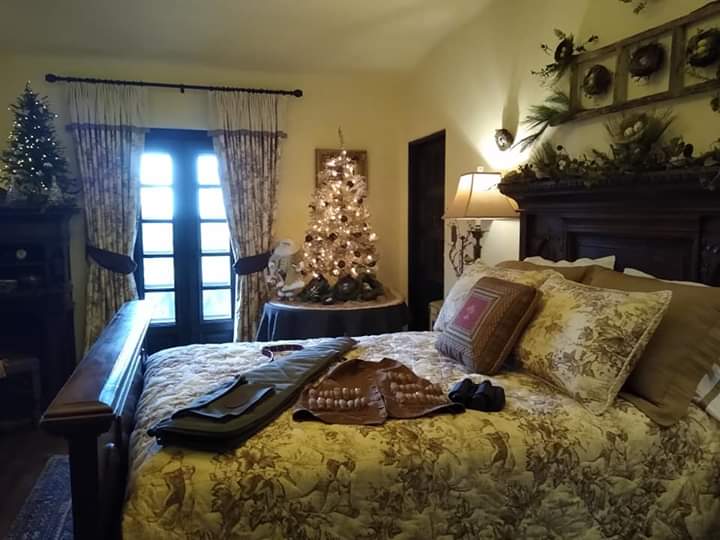 And, with a chair like this, who could blame him? Another perfect reading spot!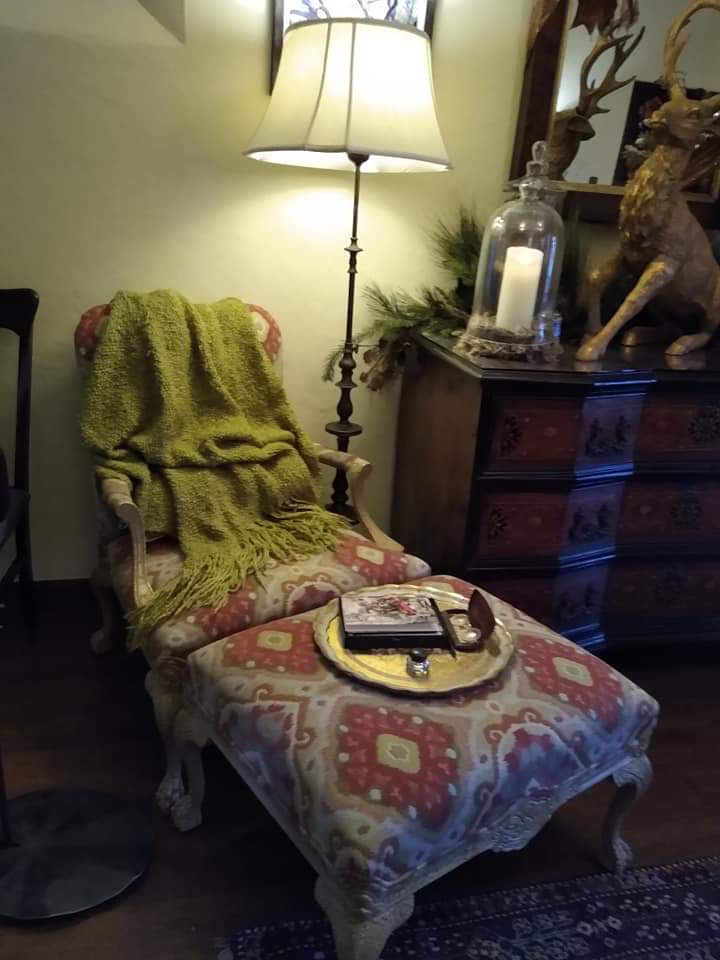 As you make your way through the upstairs, you see the ornately constructed walls and doors with heavy brown wood that really give a vintage, clean look to the home.
Charles Buck had 21 grandchildren who would visit the grounds, and I believe 1 or 2 actually lived in the home with him. I could be wrong on the exact number.
In order to provide full comfort for visiting family and friends, he designed the home to offer a bathroom in every bedroom and louvered that would close off the room completely for privacy.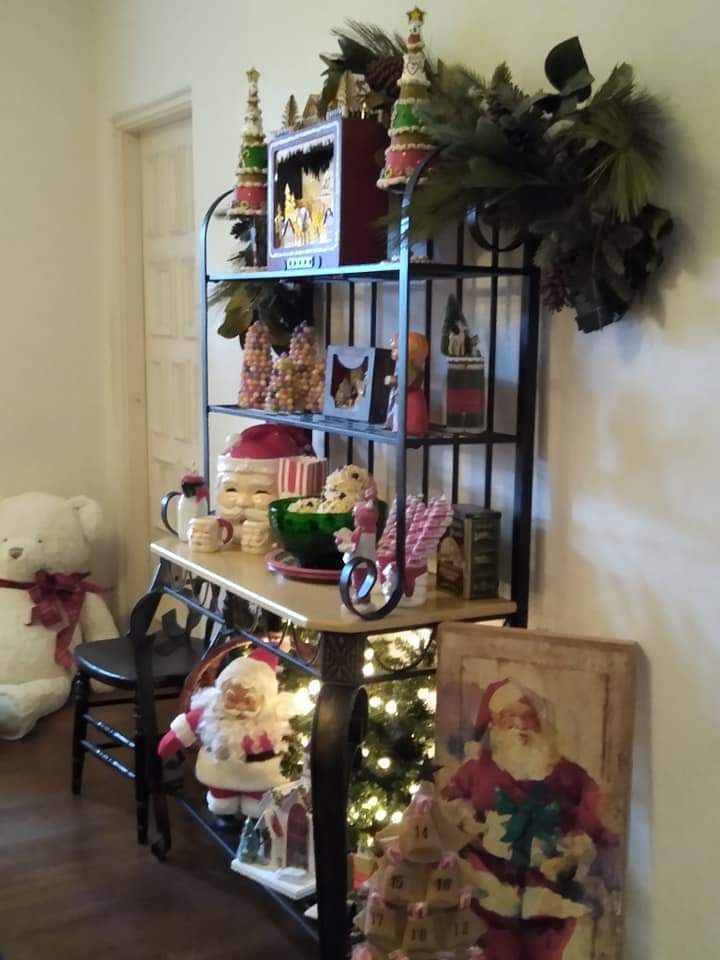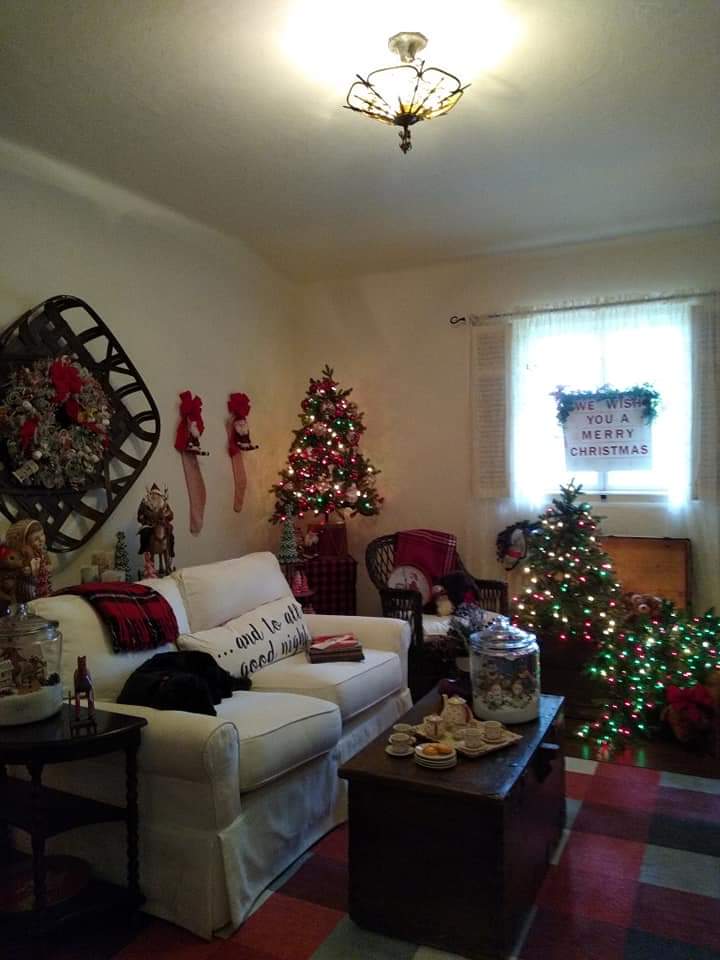 The final suite of the home is probably my favorite. It belonged to Lucy Buck Fox, who often served as hostess during their visits as her mother passed away before the home was complete. She had the largest room in the home, complete with a walk-in closet that's about the size of a full bedroom/den, and a beautiful bathroom that was colored in Elderberry. All of the furniture you see in the photo is original and belonged to Lucy.
Sadly, once you made your way down the staircase and out into the garden, this was the conclusion of the home tour, but don't fret, we still have more to explore!
Bok Tower Gardens
Just outside the home, there are beautiful gardens and fountains. I grabbed some photos of the outside of the home as well. I couldn't get over how lovely the area was.
Two of my favorite finds would have to be this little secluded fountain. I would love to sit here and just relax while listening to the water…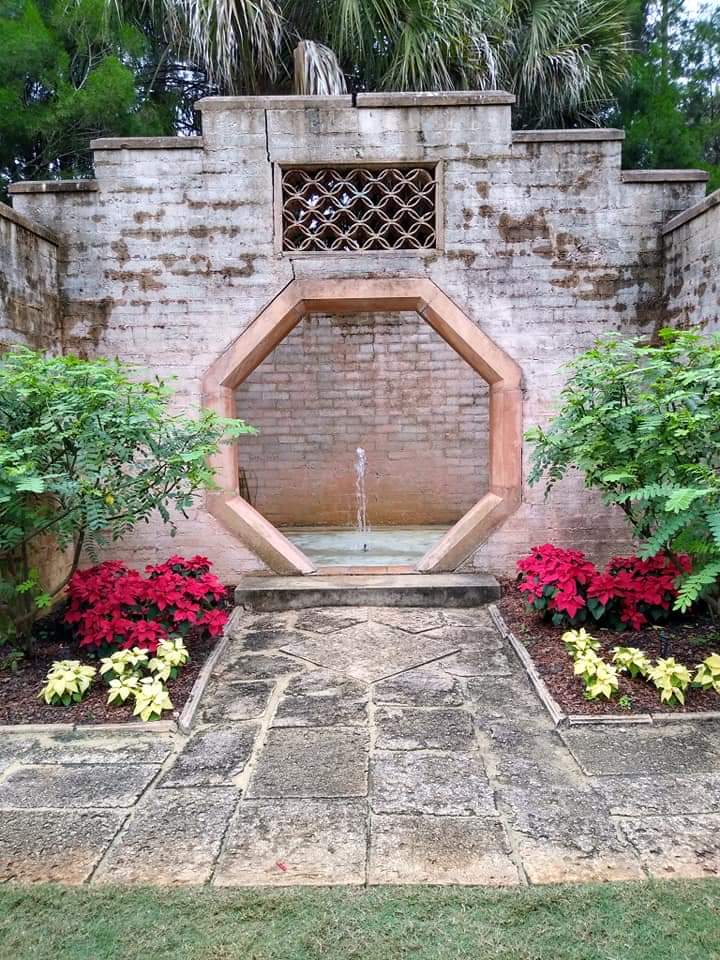 And, this hidden stairway that led up to the side of the home into the Secret Garden.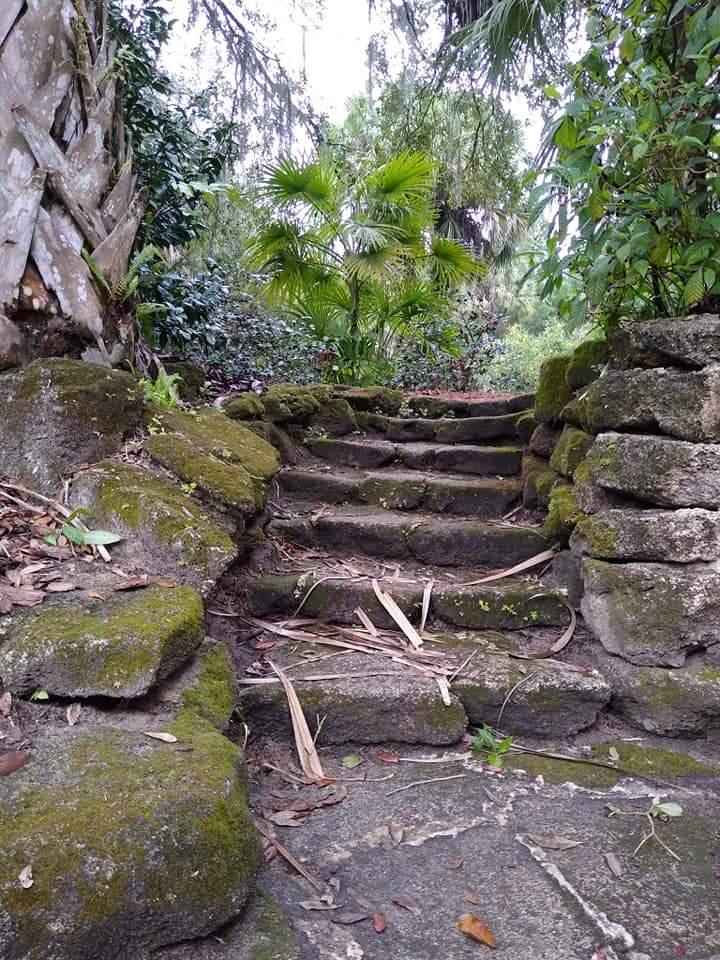 The front of the Carriage House and a small garden of veggies both decorated for the holidays, hide the secret garden. You just take the little walkway to the left to find it.
Taking a quick peak into the secret garden, I found a new craft idea…keep a possible post out if I can get it to work. Ha!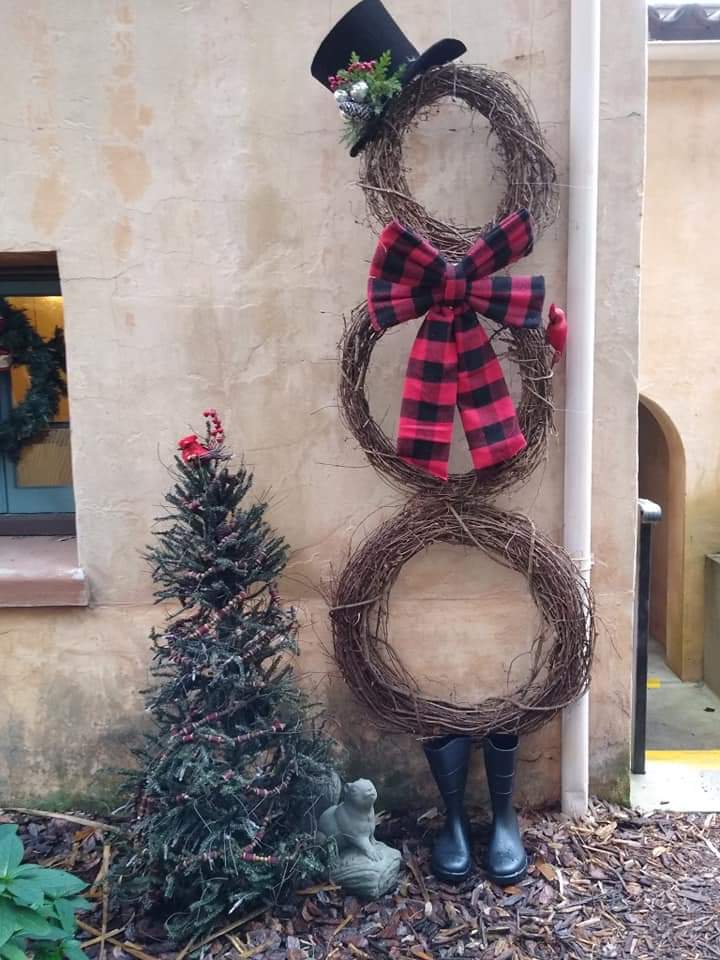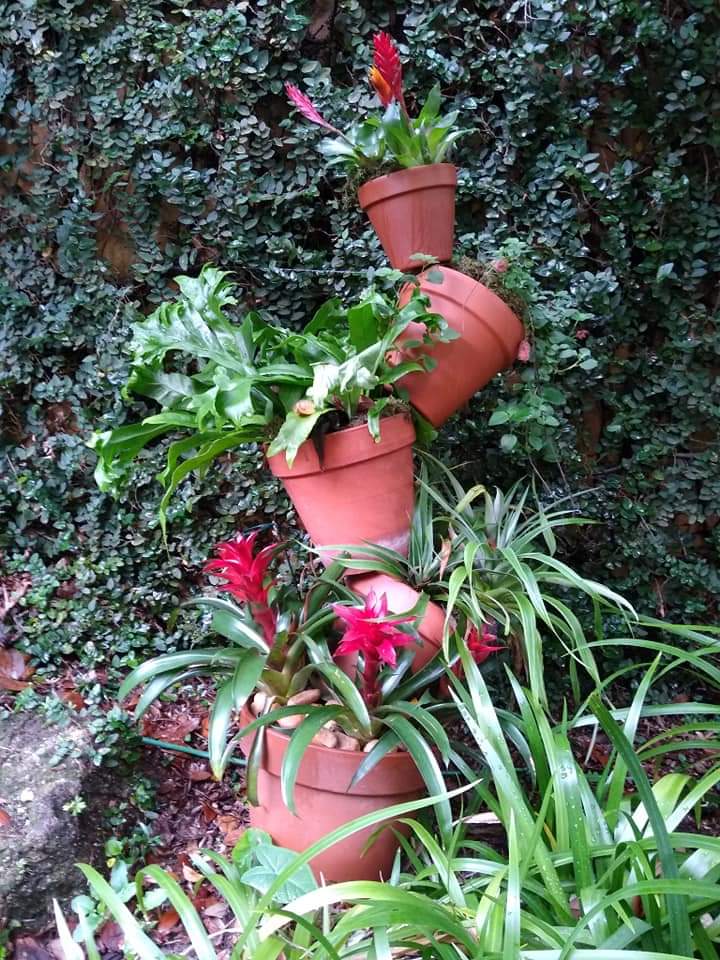 Bok Tower
Let's take the final leg of our tour to the main attraction here at the gardens – Bok Tower. As stated before, Bok Tower is a 205 foot singing tower that was open to the public in 1929. Edward Bok, founder and designer, passed away in 1930 and is buried in front, right under the golden door – which you will see later – at the head of the Reflection Pond.
Bok Tower consists of eight "floors" including the Founder's Room, Chao Research Center Archives, Water Cisterns, Tower Workshop, Anton Brees Carillon Library, Practice Keyboard, Carillon Studio, Playing Cabin, and the Bell Chamber that houses 60 singing bells.
Members are able to take advantage of entering the inside (first floor) during certain events…I have not had the pleasure of doing this, so all of my photos are from the outside, but my Aunt was able to take part, and sent some beautiful photos for me to use. Enjoy!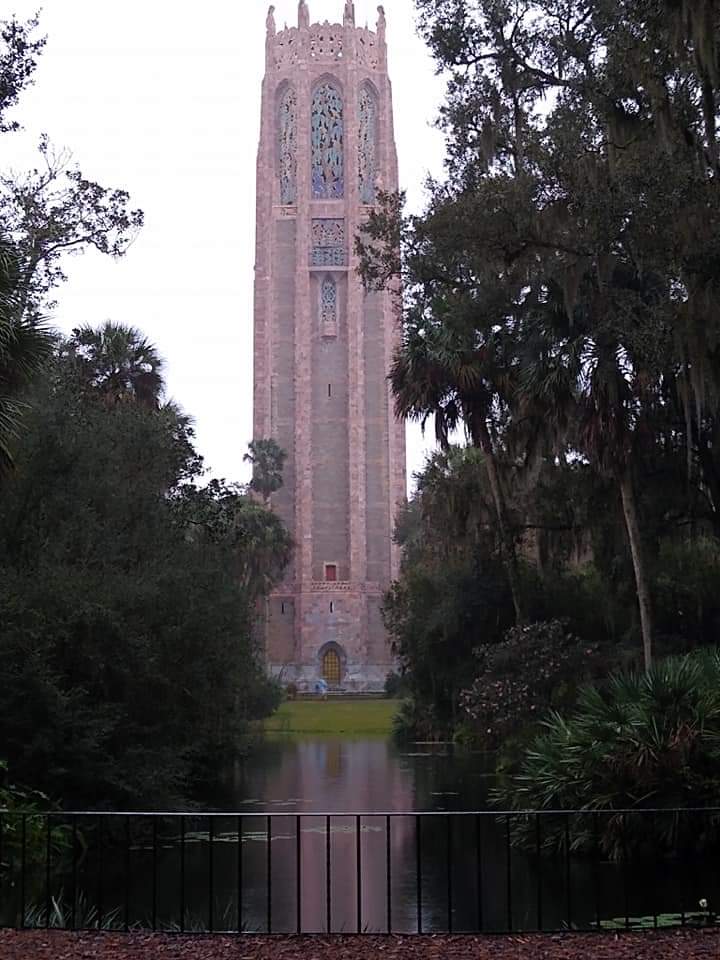 The Tower and the Reflection pond are a breathtaking sight as you come up over the last of the walkway.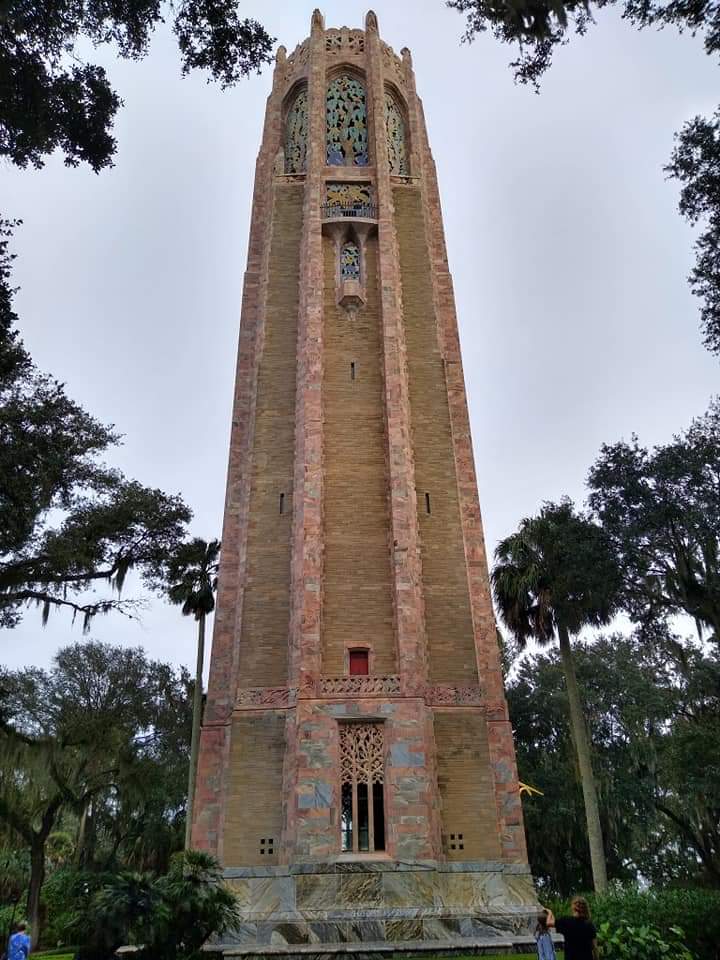 Just a little closer to show the perspective of how massive the tower is.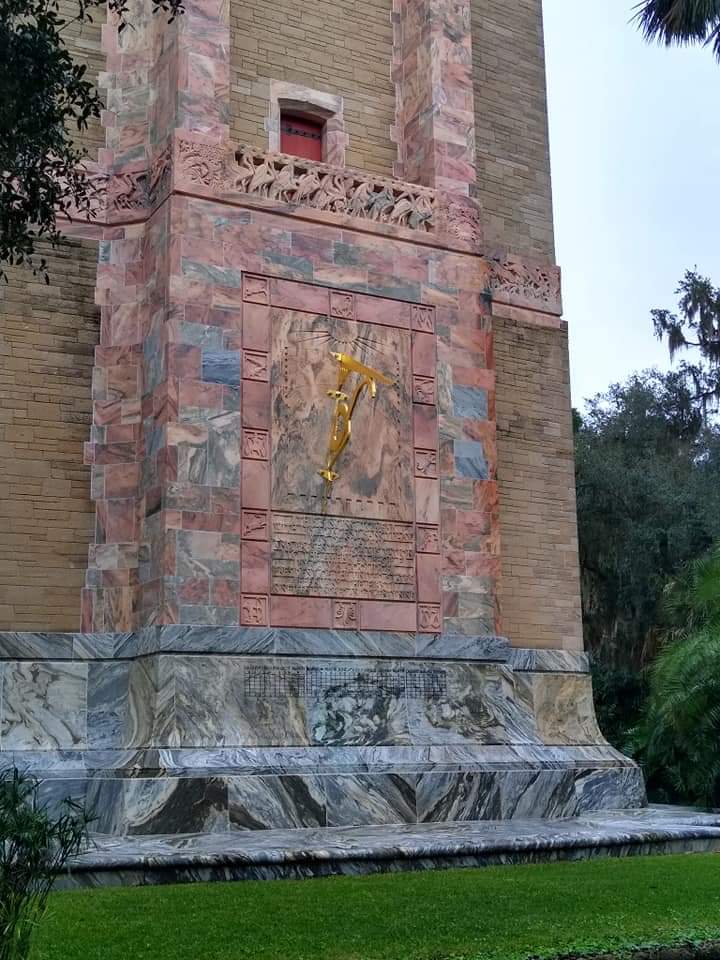 There is a sundial and many astrological carvings on the side of the tower, a beautiful koi pond surrounds it like a moat.
The following photos were taken by my Aunt.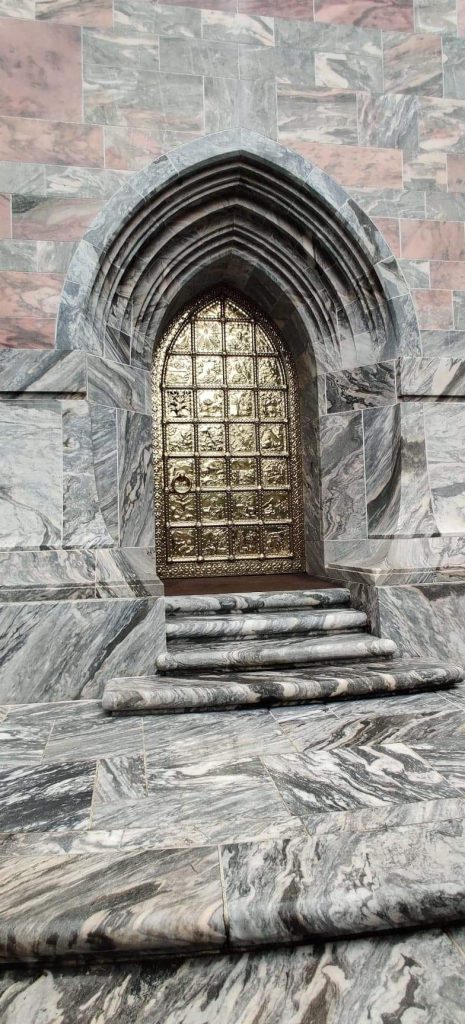 This is the door where Edward Bok is laid to rest right in front of.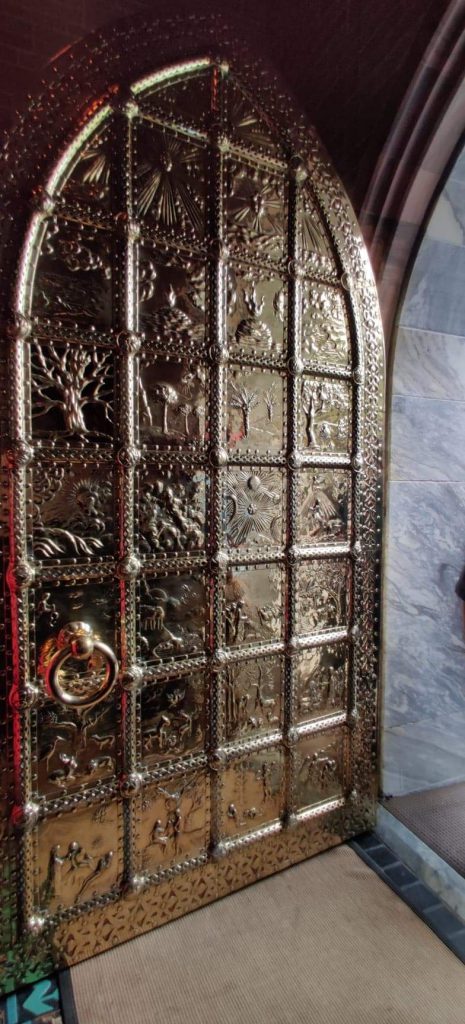 A close up of the ornate decorations.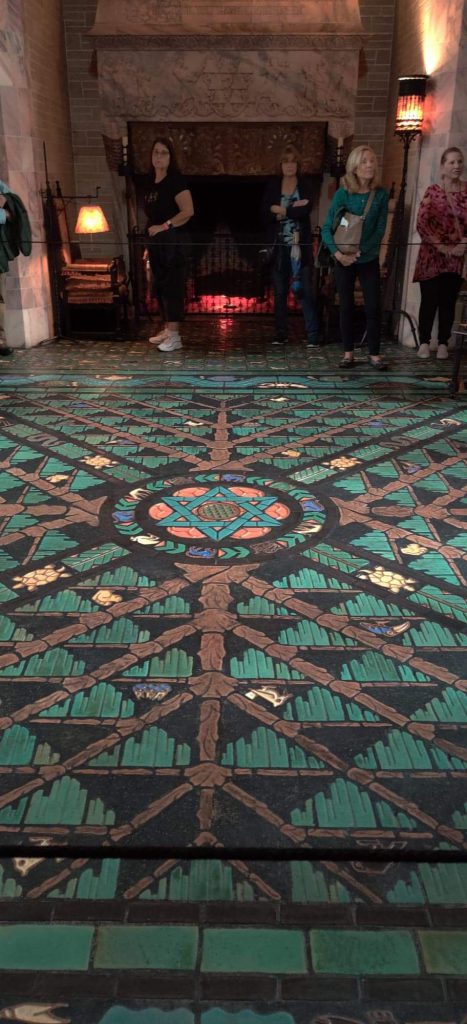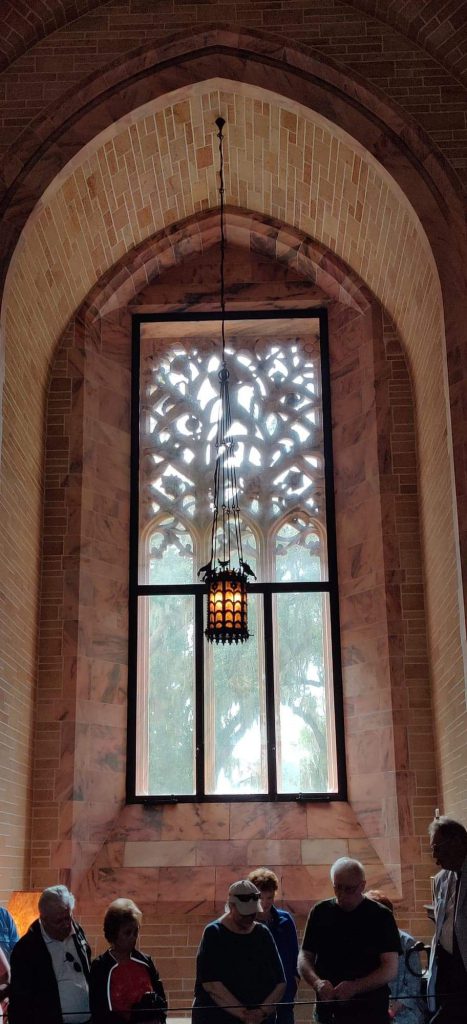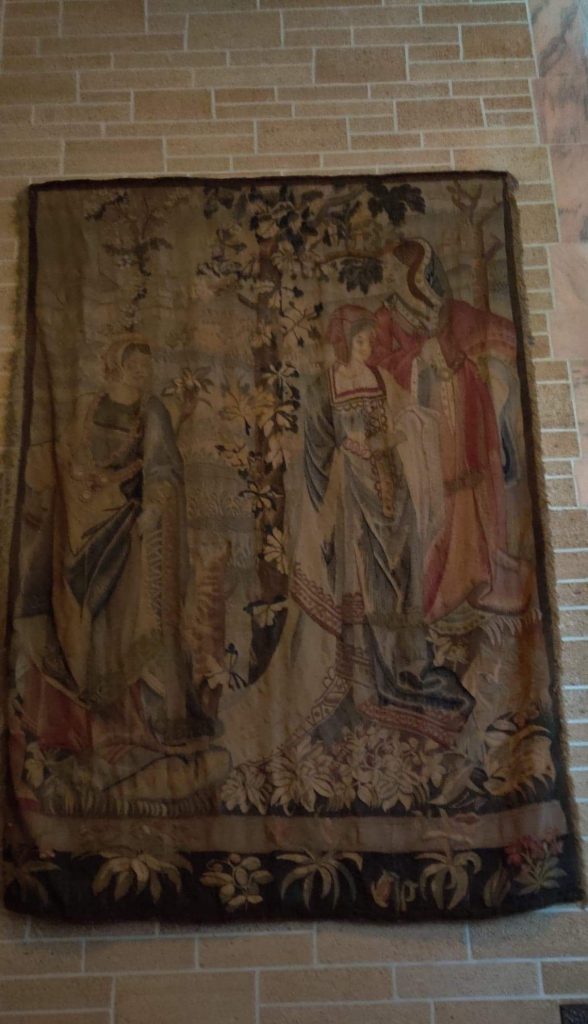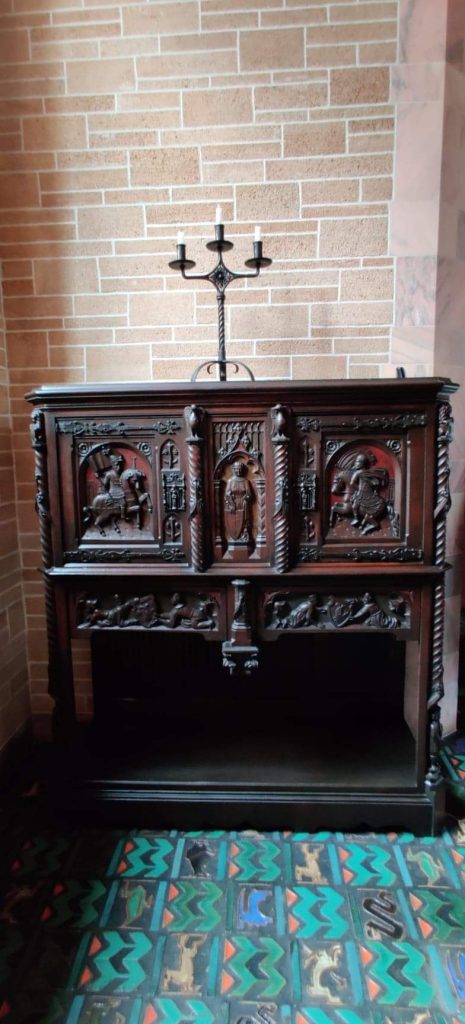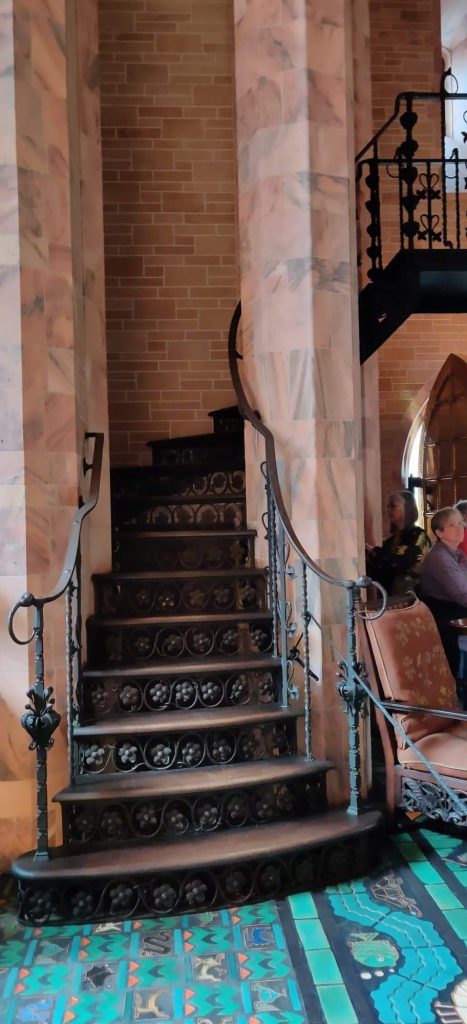 Thank you for taking the time to explore Bok Tower and the surrounding gardens with me. I hope that you add it to your list of places to visit over and over again. I think I have definitely found something to add to my yearly trips, I mean, have to check out the different decorations throughout the years.
Just a tip – they do close the home to decorate around the October time frame – usually right before Halloween and open around Thanksgiving.
Bok Tower Gardens is located at 1151 Tower Blvd. In Lake Wales, Florida. For tickets and more information, please visit boktowergardens.org.